VRAAG EEN VRIJBLIJVENDE OFFERTE AAN
Kinderfeest
VANAF €15 per person
1.5 uur les

Surfen met jouw feestje!
Eerst verzamelen bij de surfschool. Iedereen een pak aan? Dan gaan we van start.
Korte uitleg over opstaan en veiligheid en daarna zo snel mogelijk het water in om deze zo zo veel mogelijk uit de les te halen, want hier draait het toch uiteindelijk om: SURFEN OP EEN GOLF!
Wij gaan jullie hierbij in het water assisteren, zodat jullie allemaal de juiste perfecte golf pakken. Hier draait de eerste les natuurlijk om: Zo snel mogelijk staan en surfen!
De surfles duurt 1.5 uur en al het materiaal is erbij inbegrepen.
We bieden ook Bodyboarding, Skimboarding en Stand-up Paddling aan.
Scoor een gratis surfdiploma aan het einde van de les.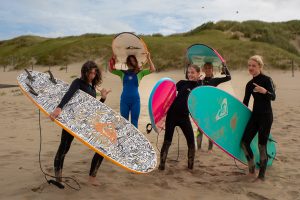 Maak je eigen dagprogramma voor je verjaardag of wij laten je een paar opties zien
Combineer surfen met een andere strandactiviteit zoals volleybal of strandvoetbal.
Wat nog meer?
Lunch, Skimboarding en nog veel meer.
  Te gek!
  1.5 uur les
   Combinatie met andere strandsporten 
   & nog veel meer