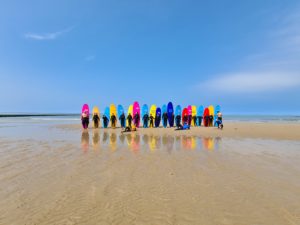 Surf lesson for your birthday! 
---
What could be more fun than going surfing for your birthsday?
  100% FUN
  Parents can join for free to assist
  all materials included 
   1.5h lesson!
   Best Bday ever!
---
MORE INFO
Surf lesson as a school event
---
Take your class surfing and learn about the ocean in a fun way!
   Basics of surfing and water safty
   Learning about the water environment 
  Best Fun & Learn experience 
  Teachers join for free!
---
MORE INFO
The best group outings
---
Company or Team / Friends or Family. The best group outing
   Joined or separate teams 
   1 Instructor for 8 people 
   Team strengthening 
   Combine with lunch & more 
---
MORE INFO
CHILDREN PARTY
FROM €15 per Person
SCHOOL OUTING
FROM €15 per Person
COMPANY/TEAM/FAMILY/FRIENDS OUTING
FROM €15 per Person
Please ask us for a quotation